There is never enough time in the day for moms to get everything done, which is why they need fitness solutions that are brief, simple, and effective. The diet plan and workouts in this 15-day mommy fit challenge meal plan are designed to help you maintain a healthy weight, enhance your metabolism, and boost your energy. Food is the fuel that will keep you alive and running. It is important that you derive your energy from fresh, healthy, and nutritious foods, rather than processed food that is rich in calories, but poor in nutritional value.
During this challenge, you will consume five nutritious meals daily. It may take some time to adjust to the regimen, especially if your current diet largely consists of junk and fast food. It is totally normal to feel languid and unenthusiastic in the beginning. However, if you strive to stick to the routine, you will experience a marked difference after a few days. You will be pleasantly surprised by the impact of this 15-day challenge on your mind and body health.
Since this challenge is designed to help you shift towards a healthier lifestyle, it allows you to indulge sometimes. If you want to go out to eat with friends and family, don't let worry or guilt come in the way. The rule of thumb is to keep the indulgent meal under 500 calories. Another important aspect of losing weight and improving metabolism is staying hydrated. Water helps get rid of fatigue and facilitates the removal of toxins from the body. If you are a nursing mom, hydration will also regulate and improve milk supply.
15-day mommy fit challenge meal plans
The following meal plans incorporate an ideal calorie foundation and an excellent balance of carbs, protein, and fats. Since the diet constitutes 5 meals a day for 15 days, you have 5 different options per meal for variety. If you don't like any of the combos, you can repeat another you prefer, as well as mix & match according to your tastes.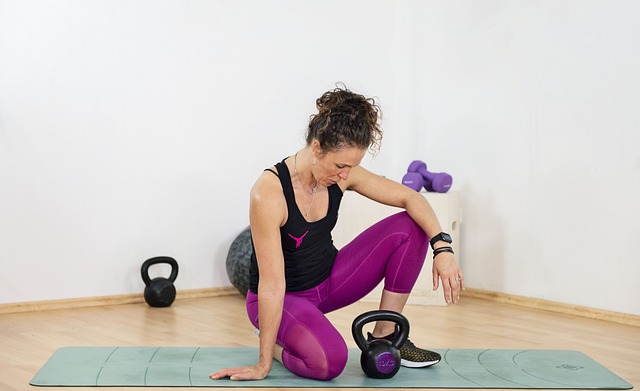 Meal 1 (Breakfast) options
1. Green Berry Smoothie
Ingredients:
1 cup of spinach
1 cup of diced avocado
8 ounces vanilla almond milk (unsweetened)
1 cup of frozen berries
Blend all the ingredients with ice in a blender and enjoy. If you prefer your smoothies thinner, add water to dilute.
2. Yogurt Parfait
Ingredients:
8 ounces of unsweetened yogurt
2 tbsp. oats
1 tbsp. organic honey
Half cup of berries
2 tbsp. raisins
Mix all ingredients in a bowl and dig in with your favorite spoon.
3. Omelet Pizza
Ingredients:
2 eggs
Herbs (oregano, parsley)
One-third cup of low-fat cottage cheese
A handful of chopped green onions
A few tomato slices
1 slice of whole-wheat bread
Whisk the eggs with the herbs and onions, and then cook in a non-stick pan; you may add a pinch of salt for taste. Put the omelet on the bread slice, top with tomato slices and cottage cheese, and bake for about ten minutes.
4. Alternate Pancakes
Ingredients:
One-fourth cup of oats
3 Egg whites
2 sliced bananas
1 tsp. coconut oil
One-fourth cup of berries
Blend the first 4 ingredients to make a thick pancake batter. The thick batter will yield fewer, but fluffier pancakes. If you want a thinner pancake, dilute the batter with almond milk. Blend the berries into syrup separately to pour onto cooked pancakes.
5. Oatmeal Surprise
Ingredients:
1/2 cup oats
An ounce of dark chocolate
Half cup of mixed nuts of your choice (unsalted)
1 tbsp. peanut butter
Zero-calorie sweetener (optional)
Microwave the oats in 1 cup of water for 2 minutes, stirring halfway through. When the oats are cooked, mix with peanut butter, nuts, and sweetener. Use a shredder to top the dish with shavings of dark chocolate.
Meal 2 (Snack) Options
1. Fruit Cocktail
Take a bowl of diced seasonal fruits and sprinkle with orange juice to add a punch of flavor.
2. Mixed Nuts
Enjoy a cup of unprocessed nuts of your choice.
3. Fruit Smoothie
Blend any fruit of your choice with a glass of skimmed milk and ice.
4. Rice Cakes
Munch on a few rice cakes, and you can spread cottage cheese on top.
5. Dark Chocolate
Any dark chocolate bar with 70% or more cocoa is a healthy snack.
Meal 3 (Lunch) Options
1. Chicken Avocado Rice
Ingredients:
6 ounces of grilled chicken
Half cup of sliced avocado
One-fourth cup of diced tomatoes
One-third cup of boiled and steamed brown rice
1 tbsp. olive oil
Salt and pepper to taste
Mix all ingredients in a salad bowl and relish.
2. Tuna Lettuce Rolls
Ingredients:
4 ounces of canned white tuna
2 tbsp. of Greek yogurt
1 tbsp. of Mustard sauce
A bunch of pickled carrots and cucumbers
Sea salt to taste
2-3 big lettuce leaves
Mix the first five ingredients together and wrap them in the lettuce leaves.
3. Bean Salsa Salad
Ingredients
Half cup of red or black beans
One-third cup of salsa sauce
One medium-sized sweet potato
Half cup of leafy greens (optional)
Boil the beans and sweet potato till tender. Add the cooked beans and diced potatoes to a bowl, and then mix with salsa and leafy greens.
4. Turkey and hummus Sandwich
Ingredients:
4 ounces of sliced turkey
3 tablespoons hummus (red pepper)
Chopped jalapeno peppers
Tomato slices
2 toast of multi-grain bread
Generously spread the hummus over the one side of both toasts. Decorate one toast with turkey, sliced tomatoes, and a bit of jalapeno. Place the other toast above to make a sandwich and cut it into triangles or squares.
5. Salmon and Vegetable Rice
Ingredients:
1-2 fillets of Salmon
Half cup of brown rice
0ne-third cup of shredded cabbage
One cup of chopped cauliflower
2 tbsp. lemon and herb vinaigrette
Marinate the salmon in the vinaigrette and sauté with the vegetables. Pair it with cooked brown rice for a delicious and filling meal.
Meal 4 (Snack) Options
1. Chocolate Strawberries
Use unsweetened dark chocolate to make a dip for about half a dozen fresh strawberries.
2. Cheese Crackers
Light crackers with cottage cheese are a great snack to pair with your evening tea.
3. Boiled eggs
Eggs are packed with protein and all the good fats, so boil to harden them to your liking. Sprinkle with salt and pepper (optional).
4. Fruit Yogurt
Take berries or any other fruit you like to add in a cup of Greek yogurt.
5. Almond and Banana Smoothie
The almond and banana smoothie is an excellent pre-workout snack to boost your energy.
Meal 5 (Dinner) Options
1. Wholesome Pasta
Ingredients:
5 ounces of any lean meat (grilled)
Lemon and herbs for seasoning
A standard serving of whole wheat pasta
Homemade marinara sauce
Mix the marinara sauce with your cooked pasta and top with seasoned grilled meat.
2. Stir Fry Chicken
Ingredients:
6 ounces of boneless chicken cubes
Stir fry vegetables
Any vegetable oil of your choice
Worcestershire sauce
Stir fry boneless chicken cubes with shredded cabbage, carrots, and capsicum; add Worcestershire sauce to taste and pair with steamed rice (white or brown).
3. Diet Burger and Fries
Ingredients:
Bran bun
Grilled fish fillet of your choice
If you are a fish lover then understanding how to cook it for that you can choose the best pans for cooking fish that might help you get a fantastic sear while cooking fish
Sweet potato
Mint Sauce
Make a burger with your fish fillet and bran bun, and bake a sweet potato to replace regular fries. Enjoy your diet burger and fries with tangy mint sauce.
4. Chicken Pineapple Salad
Ingredients:
4 ounces of grilled and shredded chicken
Half cup of pineapple chunks
One-third cup of chopped spinach
Olive oil as dressing
Mix all the ingredients in a salad bowl. You can replace spinach with other greens or fruits as well.
5. Chicken Vegetable Soup
Ingredients:
6 ounces of chicken with bone
One-fourth cup of peas
One-third cup of diced carrots
One-fourth cup of sweet corn
Salt to taste
Herbs to garnish
Corn flour for thickness (optional)
Boil the chicken for stock and add vegetables to cook till tender. The remaining ingredients should be added afterward to taste.
4 Weeks Mommy Fit Challenge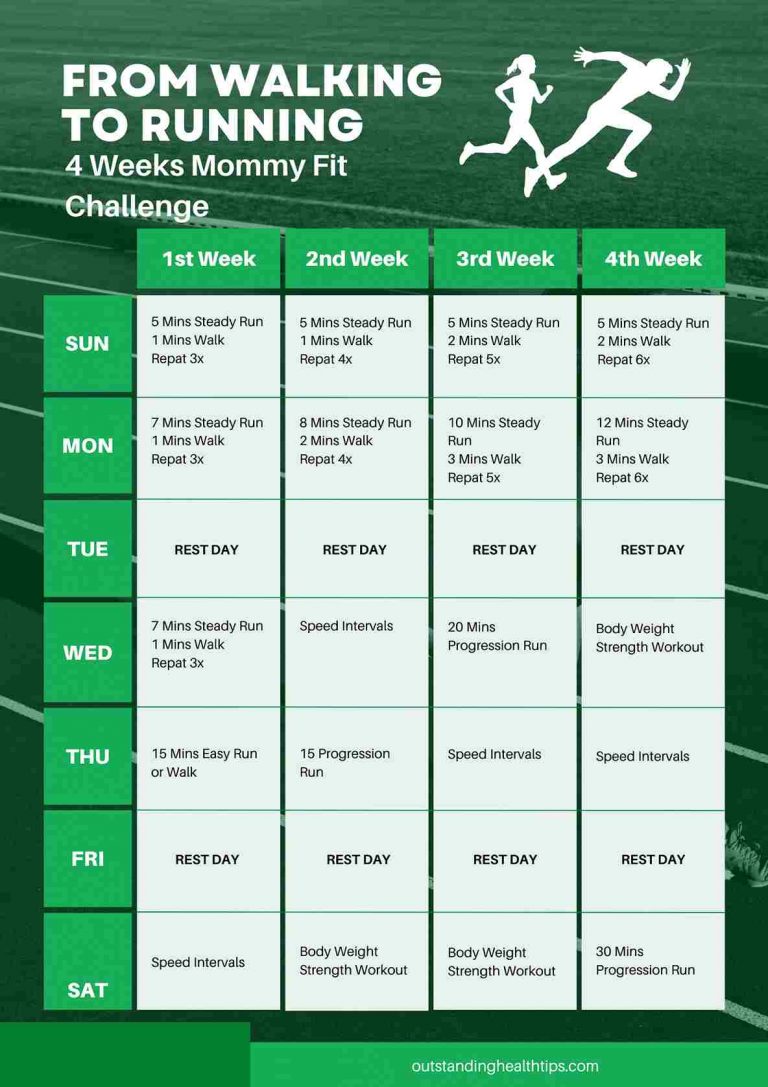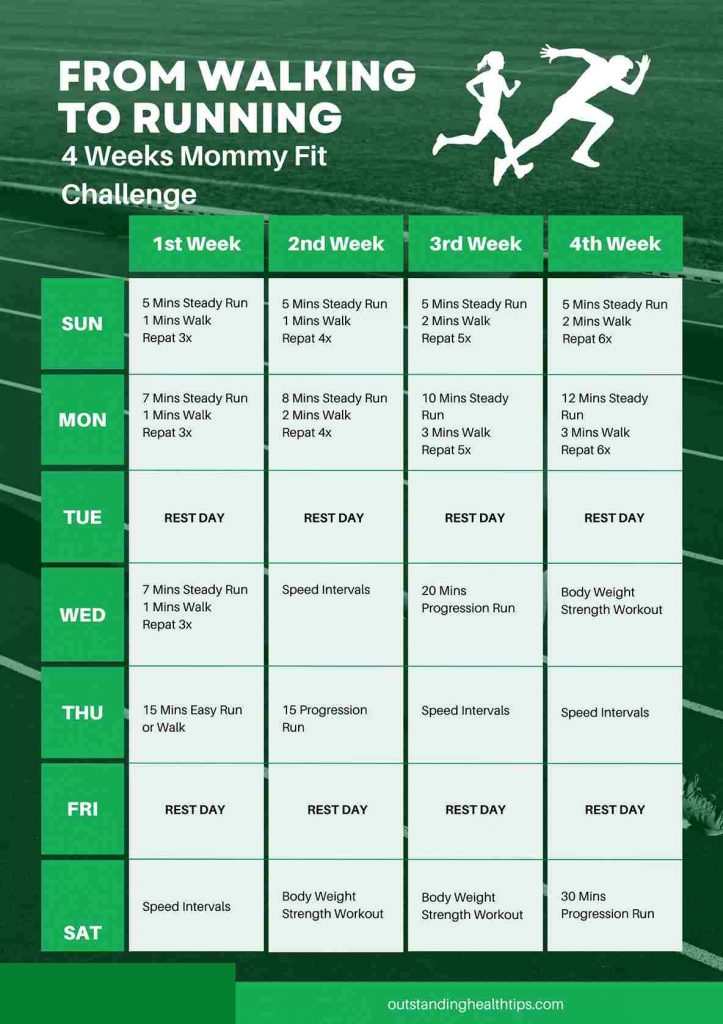 Workout Plan
When you resume working out after having a baby, take it slowly at first. Start with small weights and gradually increase them as your body becomes adapts. If you lift too much too soon, you risk damaging your pelvic floor muscles. Planks, mountain climbers, and sit-ups are all core workouts that might be too much, to begin with. To avoid injuries, start with 'Kegels' every day after to strengthen your core and pelvic floor muscles. If your stomach cones out in the center, consider it an indication that you need to take it easy and alter your movements.
All you need is 15-20 minutes of vigorous exercise every day; you may increase the duration as you build stamina. You should start with workouts that target the whole body, and change up the routine for each day in the mommy fit challenge. One day of the week should be reserved for rest and stretching; hence, if you've been giving it all for six days straight, you allow yourself to relax on the 7th day. You should focus on the lower body once a week and then on the upper body on another day. One day per week should be dedicated to cardio to sculpt your abs and you can simply do sprints too.
John Adams is a paralegal and lifestyle blogger who concentrates on health, fitness, personal injury law, and self-development. He encourages readers to fight for their rights and overcome obstacles holding them back. He believes that every person can improve the quality of his/her life by thinking positive and making better choices.